Proven Excellence in the Design, Manufacture, and Supply of Spark Arrestors
Spark arrestors, also known as spark traps are used for preventing the emission of sparks/hot particles from exhaust systems operating in potentially flammable environments. Hence, they eliminate the risk of fire that may occur due to ignition of the flammable materials resulting from spark emission. Spark arrestors are especially useful in oil & gas drilling, refining, mining, agriculture, forestry, and rail transportation where stray sparks can quickly result in ignition of the combustible materials. The risk is even higher with diesel engines as carbon can easily build up & get ignited in them.
When it comes to spark arrestors in UAE, Al-Bahar MCEM stands out as the leading manufacturer. With our focus on superior quality and advanced technology, we provide spark arrestors with unmatched quality and reliability. Although we are an industry leader, we strive for improvement and are continuously working on development of products with improved efficiency. Our team of seasoned professionals stays at the forefront of technological advancements, enabling us to provide state-of-the-art spark arrestors that deliver unrivaled performance.
Quality Spark Arrestors Engineered For Improved Efficiency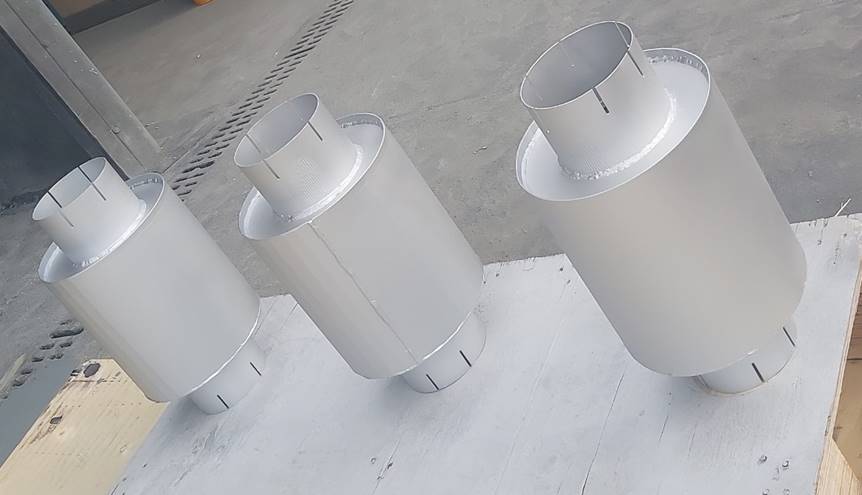 The design of our cutting-edge spark arrestors/spark traps is based on the centrifugal principle that has the effect of spinning the carbon particles present in the exhaust gas at an extremely high velocity against the outer casing. The carbon particles are then retained until they're completely burnt, making them inert prior to discharge.
Most of our spark arrestors/spark traps can replace your existing silencer as they are capable of maintaining sufficient noise attenuation without any noticeable increase in the back pressure. If more noise attenuation is needed, it is possible to fit the units in series with a standard silencer.
Each model of spark arrestor featured in our collection has been thoroughly tested for a level of back pressure to meet the engine manufacturers' back pressure specifications.
Why MCEM Spark Arrestors Are a Cut Above?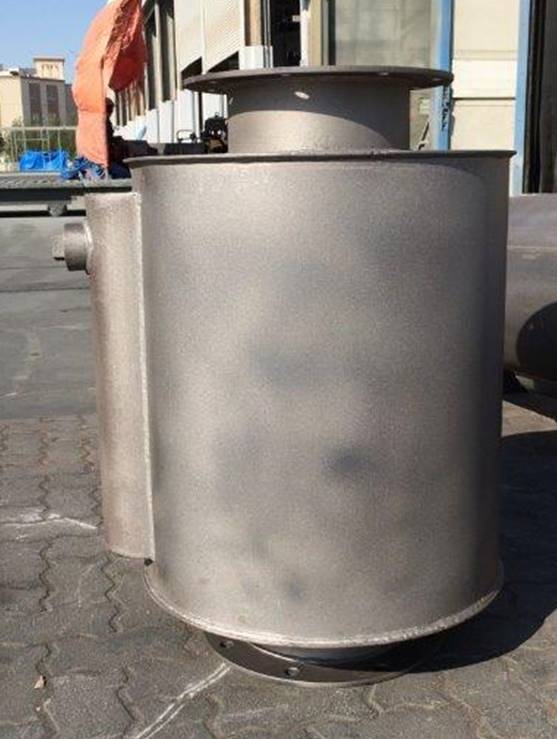 Some of the reasons why our spark arrestors outshine the competition are given below.
Tested and Approved
As the leading spark arrestor supplier in the UAE, we offer high-quality spark arrestors that have been rigorously tested for their abilities. Both our primary and secondary ranges of arrestors have been tested independently to ensure they meet the highest quality standards for all kinds of explosive environments.
Long-lasting
At Al-Bahar MCEM, we take great pride in manufacturing products which are built to last. When it comes to spark arrestors, we use the most durable materials & robust craftsmanship to manufacture them. Focused on longevity, our spark arrestors are designed to endure the rigors of challenging conditions and prolonged use.
Low Maintenance
With a well-maintained engine, our spark arrestors are virtually maintenance free, with absolutely no moving or serviceable parts. Hence, you can focus on your key operations at the site without constantly worrying about the maintenance of the arrestors.
Safe
As a trusted spark arrestor manufacturer in the UAE, we understand the significance of safety when it comes to preventing fires at the worksite. Hence, every spark arrestor featured in our collection is meticulously manufactured to meet the highest standards of safety and performance. It is made to undergo rigorous testing to confirm its ability in trapping sparks, thereby eliminating the risk of fire.
Talk to Us about Your Next Project
Give us a call @ +971 4 459 7281 to discuss your requirements & we will be happy to help. Alternatively, you can also fill the form below and one of our sales staff will get in touch with you.
Quick Enquiry
Feel free to get in touch with us for free no-obligation consultation.